Customer Reviews

Google Review by K - Rafael and his team did a beautiful job - so artistic and functional - the work is beautiful and the driveway turned out better than I could have imagined. They were with the job the whole way through so accommodative and I would recommend them highly. So happy they were the team to do the driveway.
Google Review by Thao Matlock - We had our wooden/concrete patio replaced with travertine. Perfect Way Pavers were fantastic. From helping us pick out the right pavers to demolishing and taking away the old patio, and putting down the new one, they were so helpful and professional. We had to wait quite a while to get the pavers in from the suppliers, but once they got here, work was done really quickly. Everyone on the team was professional and courteous. The patio came out looking amazing. We are super happy with the results.
Google Review by Istvan "Steve" Diossy - I needed some pavers in my front and back yard to make better use of the space. I had a friend recommended Perfect Way Pavers and since he was happy with them I decided to contact them as well. My friend did warn me that he had to wait quite a while but I was in no rush and I would rather wait for quality work. Their showroom was excellent and I found the perfect paver for my home. I did have to wait a couple of months but it was completely worth it. The guys came by to do the work yesterday and they worked hard all day. I couldn't be happier with the end result and I will be highly recommending them to my family and friends. I even had neighbors complimenting the work immediately after. I wouldn't be surprised if my neighbors will be contacting them next. :)
Facebook Review by Kris Garrigus - Perfect Way Pavers is definitely the company you want if you're looking for new pavers! It was a huge job, they worked very hard & finished in 4 days. Any communication was pleasant, not to mention a very competitive price point! We're grateful for their extreme attention to detail and professionalism, our property looks amazing! Would recommend them 100%!!!
Facebook Review by Marguerite Law Baldwin - We were so pleased and delighted with perfect way pavers. They completed our driveway in only two days and believe me it was a big job! They arrived when they said they would, worked diligently and professionally all day long and did an excellent job. We are beyond excited with the look of our home now. We highly recommend this company. Rosa and Rafael were an absolute pleasure to work with and their workers are also professional and nice!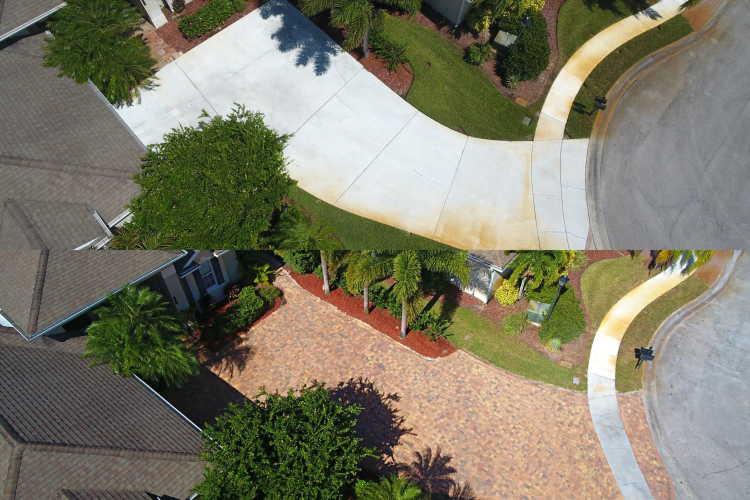 Review by Lenard & joanie B. in Sebastian, FL
Project: Install Brick or Stone Driveways & Floors
Raphael submitted a quote in a very timely fashion. We worked with Rose (his wife) who was knowledgeable, courteous, and professional. She answered our questions or had Raphael phone us as well as coordinate logistics. Raphael and his crew were on time, worked long hours during this enormous job. The cleaned up after each process and worked in a neat and orderly way. We had our large driveway, a walkway the length of the house, the entryway as well as a swoop of pavers up and around garage. We are so pleased with the fine job, we LOVE IT! Each experience we had with Raphael, Rose and the entire crew was pleasing and professional.
REVIEW BY JAMIE R. IN STUART, FL.
Project: Install Interlocking Pavers for Patios, Walks and Steps
Our project was a paver walk way. Rafael was professional, he had a very knowledgable team to complete the job. they arrived on time, and even came early becuase of a schedule change. They did an excellent job installing our walkway, quality work, clean up of the site was perfect, and they finsished the entire job in less time then expected. A real professional and a trusted contractor. I was impressed by Rafael's wokmanship and his organization skills for the job. My wife and I are very satisfied, and will call Perfect Way Pavers for another project. Thank you Rafael. Jamie Ristaino
REVIEW BY MICHAEL B. IN PORT SAINT LUCIE, FL.
Project: Install Interlocking Pavers for Driveways & Floors
They were very professional, did very clean work and cleaned up after the job was done.
Review by Mark F. in Port Saint Lucie, FL.
Project: Install Interlocking Pavers for Patios, Walks and Steps
Rafael and his crew showed up on time and completed the project in one day! They were very professional and literally did not stop working during the entire project. This is a professional company from start to finish; they keep in contact with you all the way through. I would hire them again.